TTIA Signed the MOU with OmniAir to Promote the C-V2X-Based Connected Vehicle Technologies
Ministry of Transportation and Communications (MOTC) has designated the Danhai region as the first 5G open test field in Taiwan in 2019. The test field is intended to become a framework for mutual internet-based communications among vehicles, roads, people and devices. During this project, Taiwan Telematics Industry Association (TTIA) has cooperated with HwaCom and several local partners to set up the experimental field in Danhai New Town. TTIA also published the "Traffic Controller to Roadside Open Standards" (TCROS) Ver. 1.0 in Taiwan in November, 2021. It is the result of close collaboration between technical service, the industries and TTIA fostered by the MOTC.
To take next step forward and make Taiwan a pioneer in the competition of smart city and the transportation technology. TTIA signed the memorandum of understanding with OmniAir Consortium, Inc. on June 2, 2022, to promote the application of telematics technologies and establish a new channel for international cooperation. TTIA and OmniAir also invited Dr. Mu-Han Wang, the Director of the Office of Science and Technology Advisors from MOTC and Ms. Susan Hu, the Director of Economic Division from Taipei Economic and Cultural Representative Office in the United States to witness the MOU signing.
As mentioned in his address, Dr. Wang said "The communication protocol for intelligent transport development is critical at the early stage. It will decide how to communicate between traffic controllers and CV roadside facilities. Completion of testing and verification program for TCROS 1.0 represents a major step forward for the domestic development of CV applications." And MOTC will provide all the effort to build a good environment for the development of industry. Allow Taiwan industry to expand the market globally with international certification and connection.
During his opening remarks, TTIA president Men Feng Wu said that TTIA will continuously work with all the partners to develop and publish further ITS standards based on the development of V2X applications from the Danhai 5G field trials. He also noted "TTIA will rely on OmniAir with its worldwide network of knowledge and expertise, for understanding trends in C-V2X-based connected vehicle technologies and other relevant issues discussed at international fora." The whole team look forward to working together more closely with OmniAir and plan on hosting the next Plugfest* at Danhai field.
About OmniAir: OmniAir Consortium is the leading industry association promoting interoperability and certification for ITS, tolling and Connected Vehicles. OmniAir's membership includes public agencies, private companies, research institutions, and independent test laboratories. Learn more about OmniAir at www.omniair.org.
*OmniAir Plugfest is the world's premier connected vehicle testing events in both scope of testing and the number of global participants. It brings together leading device manufacturers, test laboratories, test equipment providers, and C-V2X deployers for comprehensive conformance, interoperability, security, and field performance testing.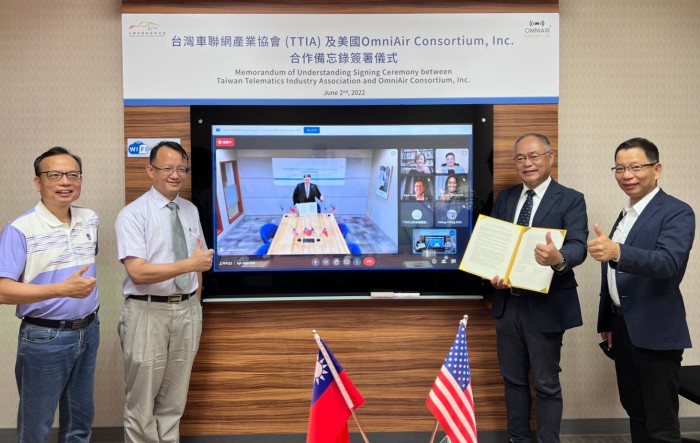 TTIA signed the MOU with OmniAir. From left to right: Mr. Alex Jeng, Secretary General, TTIA; Dr. Mu-Han Wang, Director, Office of Science and Technology Advisors from MOTC; Mr. Men Feng Wu, President, TTIA; Mr. Gary Chen, Vice President, TTIA (also Chairman and President of HwaCom Systems Inc.)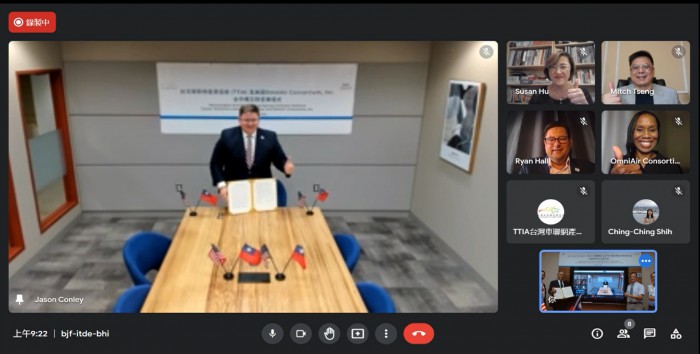 TTIA signed the MOU with OmniAir. Mr. Jason M. Conley, Executive Director of OmniAir Consortium, Inc (first from left); Ms. Susan Hu, the Director of Economic Division from Taipei Economic and Cultural Representative Office (middle of the first row); Dr. Mitch Tseng, Vice-Chair of Applications Working Group Next G Alliance (right of the first row); Mr. Ryan J. Hall, Vice President of Business Development of OmniAir Consortium, Inc. (middle of the second row); Ms. Berkenda Cantlo, Director of Business Operations and Strategic Projects of OmniAir Consortium, Inc. (right of the second row) participated/witnessed the signing ceremony online.
---