E-Lead honored the top safety standard of global automotive electronic- ISO 26262 certification from SGS
Devote effort in automotive electronics of global market.
E-Lead has promoted successfully product transformation and has won the OE projects of Optical head-up display continuously from automotive electronics markets. Meanwhile, the Advanced Driver Assistance System (ADAS) that has released by each automaker to developed auto-driving of information became one of the major transforming projects in E-Lead. In order to meet up the requirements of the top level of automotive functional safety standard- ISO 26262, E-Lead has implemented consultant guidance and certification service by professional team of SGS Taiwan on 2017 and has successfully passed ISO 26262 Automotive Functional Safety process certification on May 2018. E-LEAD not only owned the developing experiences and performance for automotive customers but also qualified technical advantages, core technology at plenty areas, familiar with the development process of automaker and testing requirements of related standards. In terms of the researching and developing, the priority consideration for automotive markets is the feedbacks from the customers. The concept of developing for customer is "Make driving enjoyable, make driving safer" that is the critical technical of the first priority mission and also became E-Lead branding strategies ever since. E-Lead keeps innovating and improving after finding out the requirements and makes profit from Optical head-up display, Advanced Driver Assistance System (ADAS) , Panoramic View Monitor (PVM), rear camera system, Internet of Vehicles (I.O.V), Tire Pressure Monitoring System (TPMS) and rear seat entertainment system etc.
Jack Kuo, Director of SGS Taiwan, said that the ISO 26262 standard consists of 10 parts including management of functional safety, concept phase, system-level, hardware-level, and software-level designs and verifications, production, operation, maintenance, and decommissioning services for the entire product life cycle. All requirements have to be met to enter the high-end automotive electronic market.
Director Jack Kuo also pointed out that E-LEAD has received the process certificate of ISO 26262 to show E-LEAD's functional safety capabilities of the product development. This strengthened the competitive advantages for domestic and oversea orders. Furthermore, products with ASIL product certificate will be effective to expand automotive electronic market and meet the needs of the OEM supply chains.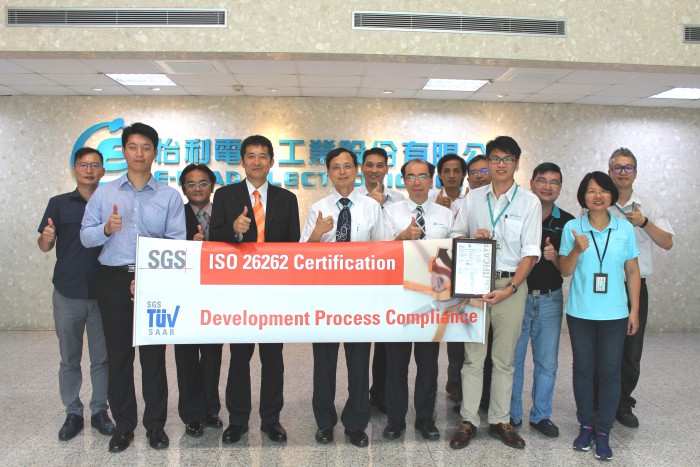 About E-LEAD
E-lead Electronics was founded in Changhua, Central Taiwan in 1983, and became one of listed companies in Taiwan in 2002. The company has constantly brought forth new ideas in automobile electronics development for 30 years. Now, E-Lead starts to devote all the resource in optical projection head-up display, ADAS, AVM, Rear Camera, I.O.V, TPMS, rear seat infotainment system…etc., E-Lead has made the products highly integrated with the aim of greater integration across markets, and become first-tier supplier in the world. Throughout the years, the company has earned a worldwide reputation and makes a great mark in the automobile electronics area. With the respect of"Global brand, local touch", E-Lead made the Changhua as the mainly production, sales and innovation center, also set the branches in China and Thailand. As a MNE, E-Lead establishes after-service centers in different important locations in order to serve the local client, and continues to reach the different cooperation with other companies. With the objective of being the biggest automobile electronics company in Asia, E-Lead has been gained the trust of an established supplier to the likes of Toyota, Nissan, VW, Mitsubishi, Audi, Ford and Chrysler, among others, and continues to expand the market to all over the world, accepts all possible cooperation to elevate the competitively and win-win situation. More information, please visit: www.e-lead.com
---